Epiphone is proud to introduce what will surely become a player's classic, the new five-string Toby Deluxe-V. The original 'Toby' brought real innovation to modern bass players who were hungry for an instrument that could accommodate new styles and sounds. And now, Epiphone and designer Michael Tobias team up again to put the Toby bass back on the cutting edge where it belongs with the Toby Deluxe-V.
The Toby Story

The original Toby Bass was designed by Michael Tobias and featured the classic ergonomic body shape that bassists find so easy to play. Toby basses have a focused, 'finished' sound that combines the punch of an upright bass with all the clear detail of an electric. And now for even greater sonic variety, the Toby Deluxe-V adds a 5th string tuned to low B. The combination of a low B and the Toby Deluxe's Active Tonexpressor™ Bass Enhancement Control gives bassists the chance to break through into new dimensions on stage and in the studio at a price that any player can afford.
Like all Epiphone instruments, the Toby Deluxe-V comes with Epiphone's Limited Lifetime Warranty backed by Gibson Musical Instruments' famous 24/7/365 day Customer Service. Four strings will never be enough again. Check out the bold and innovative Toby Deluxe-V at your favorite Authorized Epiphone Dealer.
SPECIFICATIONS
Body
radiata
Neck
hard maple
Neck Shape
Tobias™ Asymmetrical Neck profile
Neck Joint
bolt-on, extended with recessed bolts/washers
Scale Length
34'
Fingerboard
rosewood
Fingerboard Radius
12'
Nut width
1.90'
Neck Pickup
Tobias SCR™ Split-Humbucker
Bridge Pickup
Tobias SCT™ Split-Humbucker
Controls
-1-neck volume
1-Pickup blend with center detent
Master EQ
Active Tonexpressor™ Bass Enhancement Control with 9-volt battery and inside back cavity cover
Knobs
knurled, all metal
Bridge
flush-mount, low-profile, fully adjustable
Machine Heads
Deluxe Diecast tuners, 17:1 ratio
Truss Rod
Metal, fully adjustable
Truss Rod Cover
ABS - Black at body end
Color (gloss)
Ebony (EB), Translucent Red (TR), Vintage Sunburst (VS)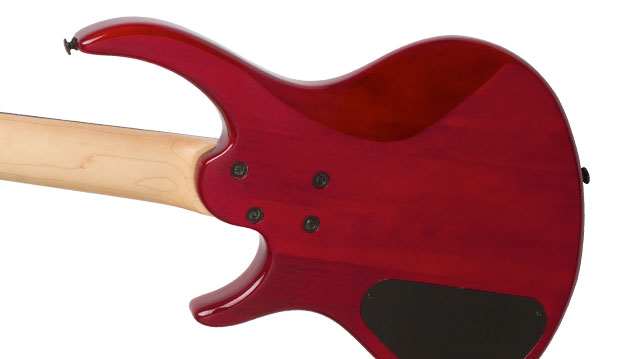 The Toby Deluxe-V features a solid radiata body and a flush-mount low profile fully adjustable bridge. Like all Toby basses, the Toby Deluxe-V includes a hard maple neck with a Tobias™ Asymmetrical Neck profile, which is a bolt-on design with recessed bolts and washers for easy adjustments. The unique Toby headstock features the iconic Toby logo and Deluxe Diecast machine heads with a 14:1 ratio. Toby basses were among the first to feature an asymmetrical neck, a design in which the neck is thinner on the lower side than on the upper side. The asymmetric shape feels less bulky than standard bass necks for maximum hand comfort even when playing with 5 strings. Adjustments to the truss rod are made at the body end. While these satin finished necks might 'feel' thinner, there is still sufficient thickness on the upper side to provide for excellent strength, stability and – best of all – deep, rich tone. Your thumb will find easy reference as your hand glides up and down the fretboard. The neck has a 34" scale length for enhanced clarity, a rosewood fingerboard with a 12" fingerboard radius and a black 1.90" nut. Gloss finishes include Ebony, Translucent Red, and Vintage Sunburst.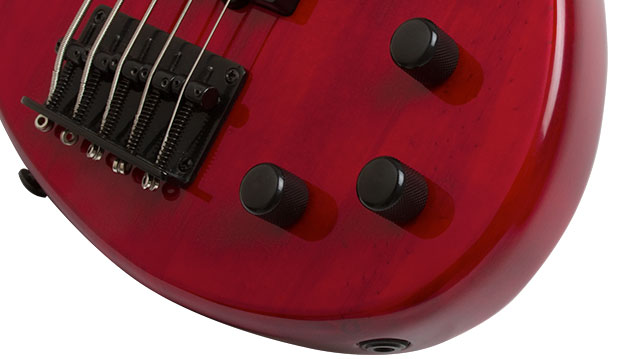 The Toby Deluxe-V features classic Tobias-designed pickups with a Tobias SCR™ Split Humbucker in the neck position and a Tobias SCT™ Split Humbucker at the bridge. Controls are black, all metal knurled knobs and include Master Volume, Pickup Blend with center Detent, and Master EQ. In addition, an Active Tonexpressor™ Bass Enhancement Control enables you the option of creative blends and is a powerful ally on stage when you need to make fine adjustments to cut through dense mixes. The Active Tonexpressor™ uses an easy-to-change 9-volt battery.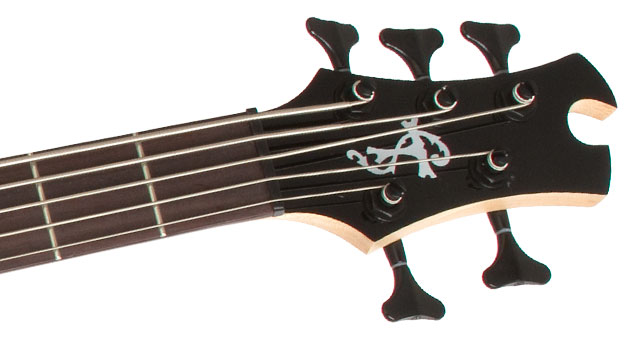 Epiphone is known for making the best hardware in the business and that of course extends to the Toby Deluxe-V which includes Deluxe Diecast tuners with a 17:1 ratio to ensure tuning stability along with a fully adjustable flush-mounted, low-profile all metal bridge.